NZ's Trent Collins and Cody Cooper with Sky Sport NZ: Speed show
NZ's up-coming Youth MX rider Trent Collins (Team Honda Racing) has developed into a talented rider while forming a special relationship with NZ's current MX1 Champion Cody Cooper.
Working with Cooper for serveral years now, Trent although still a Junior has upped his game to compete in Senior 2017 NZ MX Nationals MX2. Trent, currently sits 7th Overall after Round 3 of 4 in the coveted Championship Series.
Gaining race experience competing in Australia 2016, along with the experienced guidance from his mentor NZ's multi-time Champion Cody (Team Honda Racing) Trent fulfills all the characteristics of determination, perservance and patience to put in the hard work to achieve success on the track.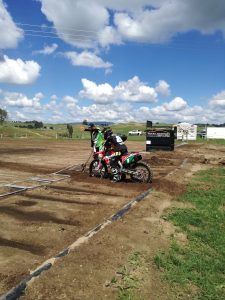 This film on Sky Sport NZ Speed show highlights the working relationship of NZ's MX1 Champion as mentor/coach/guidance for the development of skills, technique and race-craft on the bike with young, emerging talent Trent Collins.
Watch on Sky Sport NZ Channel 1 at 9.30pm Wednesday March 15th with repeats. Up-date with link post air-time.
Special thanks to Rotorua Motorcycle Club for track prep and use for filming.
Sharon Cox.
Nancy Van de Ven has gained fresh momentum heading into Italian Motocross Women Championship Round 2 this weekend having gained victory at Round One coupled with double win at Women's
Shane Richardson takes racing Bennetts British SBK Championship Superstock 1000 class in his stride, learning as much as possible, making adjustments where necessary and banking improvements in results on points