Kayne Lamont speaks on up-coming Championships 2014/2105
NZ's MX2 Champion Kayne Lamont (Yamaha NZ) is set to defend his 2014 NZ MX MX2 Title along with gain successful results racing under MX Zone Turvey Construction Yamaha in the UK post NZ Nationals.
The 21 year old has set definite goals for 2014/2015 Championship season having already proved he will be in top form in the MX2 class winning with considerable speed over his competitors at Auckland Champs recently.
Short term goals for Kayne are: 'defending my NZ Title which starts at Woodville and then into NZ MX Champs. This will be the first time I have defended any of my Titles as I have normally moved up a class. It's going to be a big challenge but I'm really looking forward to it'.
Kayne says: 'long term is going to Britain fully fit after coming off a tough Series back here and doing the best I can. I struggled with injuries the last time I raced in the UK in 2011 so I really want to show what I am capable of and have a good, solid season'.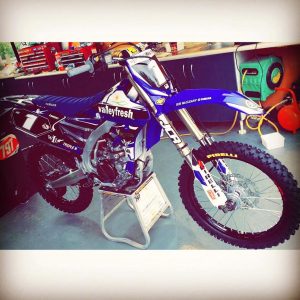 Making the switch from Husqvarna to Yamaha NZ 250F has obviously been beneficial for Lamont with signing under MX Zone Turvey Construction Yamaha Team in the UK, racing the British Championships and selected GP Rounds. How did this opportunity come about?
Kayne: 'The ride for MX Zone Turvey Construction Yamaha came about by chance really as Dad was making enquiries about engine work with Matt from MX Zone. Matt asked if I was going back to race Australia next year. Dad advised, probably not as it was getting harder to get a MX2 ride in Aussie. Matt asked if I would be keen to ride for him and his new Team'.
'Racing back in Britain with the opportunity to race a couple of GP's is something I've always wanted to do so I jumped at the chance. Matt and I get along really well and he builds a great bike so I can't wait to get over there'.
Given the goals Kayne has set to accomplish this season, what remains top priority for the tick box and where would he like to see himself this time next year?
Kayne: 'Successfully defending my Title in NZ and getting podium results in the UK is priority. Hopefully having a solid year's racing and getting selected for NZ's Team for MXoN. For the following year I'm really looking forward to ride for Josh and JCR. It is great that ride is already confirmed. It takes a lot of pressure off and allows me to concentrate on racing and not worrying about where or who I will be riding for in 2016. Hopefully I get the results I'm looking for in Britain and that may lead to another year or two back there'.
Kayne is supported by: Valley Fresh Yamaha NZ Triple B WILSport Shift Fox Workshop Graphics Philip Parry Contracting Ltd JCR Pro Taper Talon Hammerhead FMF CRC Karl Mason Builders DR Trim D.I.D Chains Advance Physiotherapy Pirelli bikesportnz.com Etnies Works Connection Red Bull Ethika
Words: Sharon Cox
Long time coming but the wait is nearly over with Infront announcing re-vised Women MX World Championship Rounds for 2020 season. From way back in March, WMX riders lined up
Shana van der Vlist has made solid progress in WMX Championship standing 5th Overall with Final Round at MXGP of Turkey in 2 weeks time. What has been stand-out success
NZ's Josiah Natzke gained 3rd podium at Maxxis British MX Championship Round 3 at Canada Heights in the weekend gaining much needed confidence heading into MXGP EMX250cc Round 3 at